Detoxikačný pleťový čistič
Certifikované Organic & Vegan
Detoxikačný pleťový čistič ZAO s bambusovým uhlím je ideálny na dôkladné prečistenie pleti!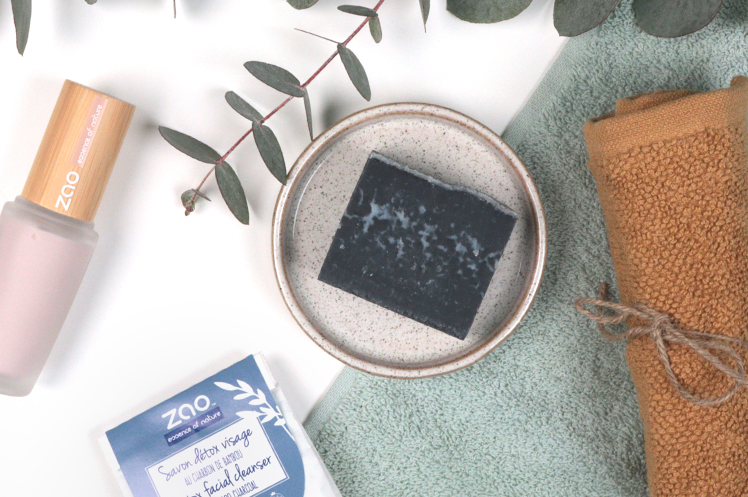 Je craque >>&gt
Toto certifikované organické mydlo na báze bambusového uhlia čistí pokožku do hĺbky a reguluje tvorbu nadbytočného mazu. Má výrazné zvlhčovacie a zmäkčovacie vlastnosti. Obsahuje bambusové uhlie, ktoré detoxikuje a vyčistí vašu pleť. Kokosový olej pleť vyživí a upokojí. Umýva pleť bez zbytočného vysušovania. Je vyrobené ručne (zmydelnením za studena) z kvalitných rastlinných olejov.
Pre normálnu, zmiešanú alebo mastnú pleť.
Výdrž produktu:
5 až 6 mesiacov denného používania
Objem:
70 g
Vyrobené v:
Francúzsko
Navlhčite čistič vo vode a napeňte ho medzi rukami. Penu naneste na tvár krúživými pohybmi. Dôkladne aplikujte na T-zónu (brada, nos, čelo). Opláchnite čistou vodou.
Zabráňte kontaktu s očami.
Detoxikačný pleťový čistič nie je dopĺňateľný.
Bambusové uhlie: Aktívne uhlie je hydrofóbna látka, ktorá neabsorbuje vodu, ale naopak zachytáva mikro znečistenie a nečistoty prítomné na povrchu pokožky. Je známe, že detoxikuje, dekontaminuje a čistí. Vďaka svojmu antibakteriálnemu účinku pomáha zmierňovať akné.

Kokosový olej: Tento olej vyživuje pokožku a zmierňuje podráždenie. Obsahuje veľké množstvo antioxidantov, vďaka čomu bojuje proti starnutiu pokožky. Tonizuje pokožku a obnovuje jej žiarivosť.
INGREDIENT LISTS F1: HELIANTHUS ANNUUS (SUNFLOWER) SEED OIL*, COCOS NUCIFERA (COCONUT) OIL*, AQUA (WATER), SODIUM HYDROXIDE, CHARCOAL POWDER. *ingredients from Organic Farming.

77 % OF THE TOTAL INGREDIENTS ARE FROM ORGANIC FARMING.
100 % NATURAL ORIGIN OF TOTAL.

COSMOS ORGANIC certified by Ecocert Greenlife according to COSMOS standard.
Mohlo by sa vám páčiť