Körömlakk lemosó
Organic & Vegan certified
A körömlakk eltávolítása érdekében megfelelő oldószer tulajdonságokkal rendelkező összetevőket kell használni. Az acetont és az etil-acetátot a leggyakrabban a hatékonyságuk és a vonzó áruk miatt alkalmazzák. Ezek azonban jól ismertek a bőr és a körmök szárítási hatásairól. Nagyon illékonyak, irritálják a szemet és a légző rendszert. Gyúlékony komponensek. Ezért a ZAO úgy döntött, hogy tanúsított szerves oldószert alkalmaz, mely 100%-ban természetes, gyengéd és környezetbarát.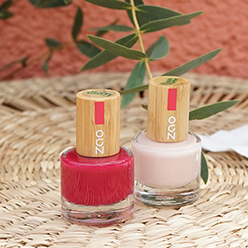 Je craque >>&gt
A ZAO körömlakk aceton és etil-acetát mentes. 100% természetes formula, vegán és minősített Bio a Cosmos által Ecocert, kíméletesen távolítja el a körömlakkot anélkül, hogy szárítaná a körmöt vagy a bőrt.
A Formula 100% -a természetes eredetű, minősített bio és vegán.
MADE IN:
France
CAPACITY:
100 ml / 3.38 fl.oz.
REFILLABLE:
No
Körömlakk lemosó használata

Egy vattakorongot a körömlakklemosóval átáztatva helyezz a körmödre néhány másodpercig, majd áttörölve könnyedén távolítsd el a lakkot a körmödről. Ezután öblítsd le a kezed vízzel.

Kerüld a szembejutást. Gyermekektől távol tartandó! Közvetlen napfénytől és hőtől védve tárolandó!

Ez a termék nem utántölthető
Ethyl Laktát

Ez a 100% természetes oldószer gyengéden eltávolítja a körömlakkot anélkül, hogy szárítaná vagy károsítaná a bőrt.

50% OF THE TOTAL INGREDIENTS ARE FROM ORGANIC FARMING.

100% NATURAL ORIGIN OF THE TOTAL.

NAIL POLISH REMOVER INGREDIENTS (F1) : ALCOHOL*, ETHYL LACTATE. *ingredients from Organic Farming.

COSMOS ORGANIC certified by Ecocert Greenlife according to COSMOS standard available at: http://COSMOS.ecocert.com.
You might also like