Méregtelenítő arctisztító
Organic & Vegan certified
A ZAO méregtelenítő arctisztító bambuszszénnel ideális bőrtisztító és méregtelenítő!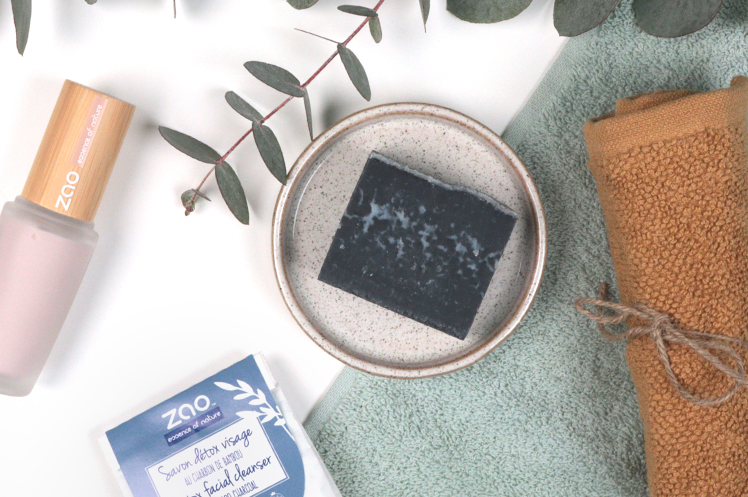 Je craque >>&gt
Normál, vegyes és zsíros bőrre.
Ez a tanúsított bio szappan a bambusz szén segítségével mélyen megtisztítja a bőrt és szabályozza a faggyúfelesleget. Kiváló minőségű növényi olajokból kézzel (hideg szappanosítás), főzés nélkül készül. Hidratáló és lágyító tulajdonságai összehasonlíthatatlanok a formulában található surgráknak köszönhetően.
TERMÉK ELEGENDŐ:
5-6 hónapra napi használat mellett;
NETTÓ SÚLY:
70 g / 2,46 oz.
MADE IN:
Franciaország
Habosítsd fel a szappant a vizes kezeid között, majd körkörös mozdulatokkal vidd fel a leoldott szappant az arcodra. Alkalmazd az arc T-zónájában (áll, orr, homlok). Alaposan öblítsd le tiszta vízzel.
Kerüld a szembe jutást.
A méregtelenítő arctisztító nem újratölthető.
Bambuszszén: Az aktív szén hidrofób anyag, nem szívja fel a vizet, viszont megfogja a bőr felületén jelen lévő szennyeződéseket. Ismert méregtelenítő, fertőtlenítő és tisztító. Antibakteriális hatásának köszönhetően ajánlott pattanásos bőrre is.

Kókuszolaj: Ez az olaj táplálja a bőrt és csillapítja az irritációt. Antioxidáns, harcol a bőr öregedése ellen, tonizálja és helyreállítja ragyogását.
INGREDIENT LISTS F1: HELIANTHUS ANNUUS (SUNFLOWER) SEED OIL*, COCOS NUCIFERA (COCONUT) OIL*, AQUA (WATER), SODIUM HYDROXIDE, CHARCOAL POWDER. *ingredients from Organic Farming.

77 % OF THE TOTAL INGREDIENTS ARE FROM ORGANIC FARMING.
100 % NATURAL ORIGIN OF TOTAL.

COSMOS ORGANIC certified by Ecocert Greenlife according to COSMOS standard.
You might also like