Stärkende Wimpernpfledge
Bio & Vegan zertifiziert
Die Stärkende Wimpernpflege wird dank ihrer Wirkstoffe, die zur Schönheit Ihrer Augen beitragen, bald zu einem unverzichtbaren Bestandteil Ihrer Schönheitsroutine werden.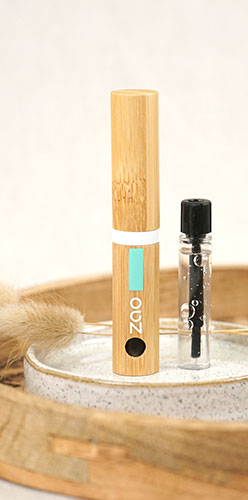 Genau wie unser Haar und unsere Haut brauchen auch unsere Wimpern tägliche Pflege, um gesund zu bleiben und zur Schönheit der Augen beizutragen. Schönheit der Augen. Deshalb hat Zao ein stärkendes Pflegegel entwickelt, angereichert mit Erbsensprossen-extrakt, der dem Wimpernverlust vorbeugt und das Wachstum der Wimpern stimuliert, und Bio-Limettenknospenextrakt, der die Wimpern schützt und mit Feuchtigkeit versorgt.
Die Stärkende Wimpernpflege ist auch für Personen geeignet, die eine Wimpernverlängerung, -färbung oder -verdichtung haben. Allerdings sollte sie mindestens 72 Stunden nach der Anwendung verwendet werden.
INHALT:
3,8ml / 0,12 fl.oz.
NACHFÜLLBAR
Ja
Abends nach dem sorgfältigen Entfernen des Augen-Make-ups die Pflege mit der Präzisionsbürste in kleinen Mengen auf den
Wimpernansatz auftragen und einziehen lassen. Für optimale Ergebnisse 3 Monate lang täglich anwenden.

Ein Bonus: Es kann auch für die Augenbrauen verwendet werden.
Die stärkende Wimpernpflege ist nachfüllbar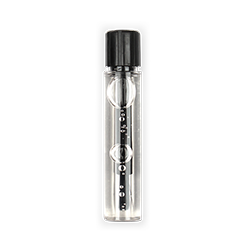 Erbsensprossen-Extrakt

Dieser Wirkstoff, der aus jungen Erbsensprossen gewonnen wird, reduziert den Wimpernverlust und stimuliert das natürliche Haarwachstum von der Wurzel an.


Bio-Lindenblütenextrakt

Er bildet einen Schutzfilmauf den Wimpern, spendet ihnen Feuchtigkeit und verleiht ihnen mehr Volumen. Es hilft, die Wimpernfaser zu restrukturieren und zu glätten.


Bio-Aloe Vera

Aloe-Vera-Gel ist für seine beruhigenden und lindernden Eigenschaften bekannt und macht die empfindliche Augenpartie wieder weich.

28 % OF THE TOTAL INGREDIENTS ARE FROM ORGANIC FARMING.
100 % NATURAL ORIGIN OF TOTAL.

INGREDIENTS LIST 089 (F1): AQUA (WATER) , ALOE BARBADENSIS LEAF JUICE*, GLYCERIN, BAMBUSA VULGARIS LEAF EXTRACT*, XANTHAN GUM, TILIA TOMENTOSA BUD EXTRACT*, PISUM SATIVUM (PEA) SPROUT EXTRACT, SODIUM LEVULINATE, PHENETHYL ALCOHOL, ALCOHOL, SODIUM ANISATE, LEVULINIC ACID, SODIUM HYDROXIDE, CITRIC ACID. *Ingredients from Organic Agriculture.


COSMOS ORGANIC certified by Ecocert Greenlife according to the COSMOS standard available on http://COSMOS.ecocert.com.
Vielleicht gefällt dir auch