Dizolvant pentru lac de unghii
Certificat Organic și Vegan
Pentru a îndepărta oja, trebuie să utilizați un produs cu proprietăți dizolvante foarte bune. Cele mai utilizate, datorită eficienței și a prețului lor atractiv, sunt acetona și acetatul de etil. Cu toate acestea, ele usucă foarte tare pielea și unghiile, sunt volatile și provoacă iritații la nivelul ochilor și a căilor respiratorii. În plus, mai sunt componente foarte inflamabile. De aceea, ZAO a ales să creeze un solvent organic certificat, 100% natural, blând și ecologic.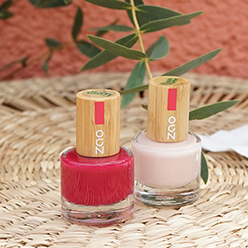 Je craque >>&gt
Dizolvantul pentru lacul de unghii marca ZAO nu conține acetonă și acetat de etil. Formula sa 100% naturală, vegană și certificată Bio Cosmos de către Ecocert, îndepărtează ușor oja, fără a usca pielea sau a deteriora unghiile.
O formulă 100% de origine naturală, certificată Organic și Vegan.
PRODUS ÎN:
Franța
CAPACITATE:
100 ml / 3,38 fl.oz.
REÎNCĂRCABIL:
Nu
Utilizarea produsului de îndepărtare a lacului de unghii

Înmuiați tamponul de bumbac în dizolvant și mențineți-l pe unghii câteva secunde. Frecați ușor tamponul de bumbac peste unghie. Apoi clătiți-vă mâinile cu apă.

Evitați contactul cu ochii. Nu ingerați. A nu se lăsa la îndemâna copiilor. Nu expuneți la căldură.


Acest articol nu este reîncărcabil
Lactat de etil

Acest solvent 100% natural îndepărtează delicat lacul de unghii, fără a usca sau afecta pielea.

50% OF THE TOTAL INGREDIENTS ARE FROM ORGANIC FARMING.

100% NATURAL ORIGIN OF THE TOTAL.

NAIL POLISH REMOVER INGREDIENTS (F1) : ALCOHOL*, ETHYL LACTATE. *ingredients from Organic Farming.

COSMOS ORGANIC certified by Ecocert Greenlife according to COSMOS standard available at: http://COSMOS.ecocert.com.
S-ar putea să îți placă