Kynsilakanpoistoaine
Organic & Vegan certified
Kynsilakanpoistoaineelta tarvitaan hyviä liuotinominaisuuksia. Asetoni ja etyyliasetaatti ovat yleisimmin käytettyjä aineita tähän tarkoitukseen, sillä ne ovat tehokkaita ja edullisia. Ne ovat kuitenkin tunnettuja ihoa ja kynsiä kuivattavista vaikutuksistaan. Ne ovat helposti haihtuvia ja ärstyttävät silmiä ja hengitysteitä. Ne ovat myös herkästi syttyviä aineita. Siksi ZAO on päättänyt luoda luomukynsilakanpoistoaineen, joka on hellävarainen ja ympäristöystävällinen.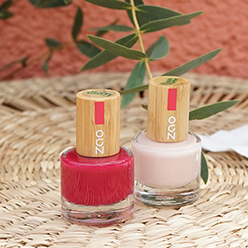 Je craque >>&gt
Zao Organic Make up'in Kynsilakanpoistoaine on tehty ilman asetonia ja etyyliasetaattia. Sen koostumus on 100% luonnollista alkuperää. Poistaa helposti ja hellävaraisesti kynsilakan ilman ihon kuivumista tai kynsien vaurioitumista.
Koostumus 100% luonnollista alkuperää, sertifioidusti luomua ja vegaaninen.
TILAVUUS:
100 ml / 3,38 fl.oz
UUDELLEENTÄYTETTÄVÄ:
Ei
Kynsilakanpoistoaineen käyttö

Kostuta vanulappu vesiliukoisella kynsilakan poistoaineella ja paina kynnelle muutaman sekunnin ajaksi. Hiero vanulapulla kevyesti kynttä. Huuhtele kätesi lopuksi vedellä.

Älä altista tuotetta kuumuudelle.

Tämä tuote ei ole uudelleen täytettävä
Etyylilaktaatti

100 % luonnollinen kynsilakanpoistoaine poistaa hellävaraisesti kynsilakan kuivattamatta kynttä. Hellävarainen tuote ei ärsytä kynsinauhoja.


Luomubambuvesi

Runsaasti luomupiitä sisältävä luomubambuvesiuute tunnetaan kosteuttavista ja uudistavista ominaisuuksistaan. Se vahvistaa kynsiä ja tekee niistä kestävät.



50% OF THE TOTAL INGREDIENTS ARE FROM ORGANIC FARMING.

100% NATURAL ORIGIN OF THE TOTAL.

NAIL POLISH REMOVER INGREDIENTS (F1) : ALCOHOL*, ETHYL LACTATE. *ingredients from Organic Farming.

COSMOS ORGANIC certified by Ecocert Greenlife according to COSMOS standard available at: http://COSMOS.ecocert.com.
You might also like