Detox-kasvosaippua
Organic & Vegan certified
ZAOn detox-kasvosaippua sisältää bambuhiiltä ja se syväpuhdistaa ihoasi tehokkaasti!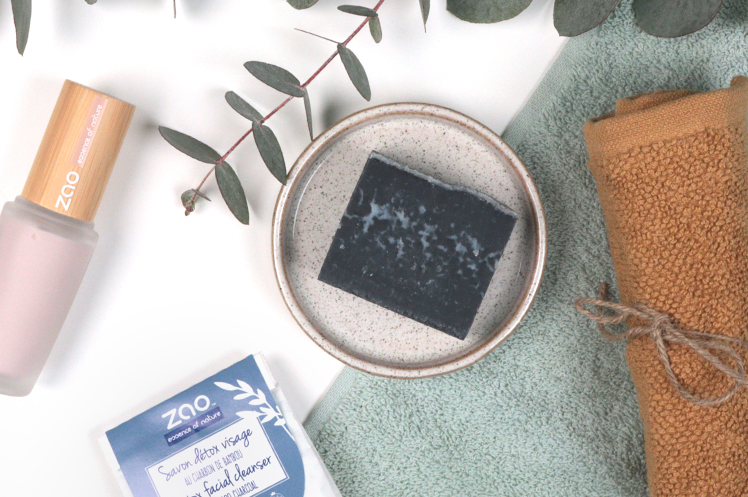 Je craque >>&gt
Sopii normaalille, seka- ja rasvaiselle iholle
Bambuhiileen perustuva luomusaippua syväpuhdistaa ihosi hilliten talintuotantoa. Käsintehty (kylmäsaippuointimenetelmällä), ilman keittämistä korkealaatuisista kasviöljyistä. Sen verrattoman kosteuttavat ja pehmentävät ominaisuudet ovat koostumukseen sisällytetyn surgrassin (vahasaippua) ansiota.
TUOTTEEN KESTO:
5-6 kuukautta päivittäisessä käytössä
NETTOPAINO:
70 g / 2,46 oz.
VALMISTETTU:
Ranska
Kastele juoksevan veden alla ja vaahdota käsissäsi. Levitä sitten muodostunut vaahto kasvoillesi pyörittelevin liikkein. Keskity T-alueelle (leuka, nenä, otsa). Huuhtele vedellä.
Vältä tuotetta joutumasta silmiin.
Detox-kasvosaippua ei ole uudelleentäytettävä.
Bambuhiili:Aktiivihiili on hydrofoobinen aine, eli se ei sido itseensä vettä, vaan imee puoleensa epäpuhtauksia ja ilmansaasteita ihon pinnasta. Tunnetaan puhdistavista ominaisuuksistaan. Sopii myös akneiholle, sillä se on antibakteerinen ainesosa.

Kookosöljy: Tämä öljy ravitsee ihoa ja rauhoittaa ärsytystä. Antioksidanttisena se taistelee ihon vanhenemisprosessia vastaan, kiinteyttää ja kirkastaa.
INGREDIENT LISTS F1: HELIANTHUS ANNUUS (SUNFLOWER) SEED OIL*, COCOS NUCIFERA (COCONUT) OIL*, AQUA (WATER), SODIUM HYDROXIDE, CHARCOAL POWDER. *ingredients from Organic Farming.

77 % OF THE TOTAL INGREDIENTS ARE FROM ORGANIC FARMING.
100 % NATURAL ORIGIN OF TOTAL.

COSMOS ORGANIC certified by Ecocert Greenlife according to COSMOS standard.
You might also like