Smink előkészítő krém
Organic & Vegan certified
A smink előkészítő krém hidratál, védelmet nyújt a bőrnek, egységesíti a bőrfelszínt, valamint stabil és hosszan tartó sminket biztosít.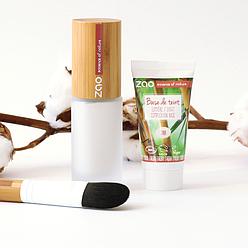 Je craque >>&gt
A Zao Make-Up Prim'Light bázis krémet sminkelés előtt alkalmazd, akár teljes értékű nappali krémként. Selyemfénye optikailag egységesíti a bőrt és stabil, tartós sminket garantál. A szerves jojobaolajjal, organikus édes mandulaolajjal és szilícium-dioxidban gazdag organikus bambusz hidrosollal készült, hidratáló Prim'Light bázis üde, friss bőrt eredményez.
Ez a bázis minden bőrtípusra, különösen normál és száraz bőrre alkalmas. Ha zsíros a bőröd, inkább a Sublim'soft bázisunkat javasoljuk.
100% -ban természetes eredetű formula, tanúsított bio és vegan.
NETTÓ SÚLY:
30 ml / 1 fl. oz.
UTÁNTÖLTHETŐ:
Igen
A smink előkészítő krém használata

Sminkelés előtt vidd fel az arcodra úgy, mint egy hidratáló krémet, egyenletesen eloszlatva az ujjaiddal. Selymesen egységes, hidratált bőrfelszínt biztosít.
A smink előkészítő krém utántölthető
Organikus jojoba olaj

Ez az olaj nyugtató és lágyító hatású, gyorsan beszívódik a bőrbe anélkül, hogy zsíros érzetet hagyna. Megvédi a bőrt a kiszáradástól és a ráncoktól. Különleges összetételének és száraz textúrájának köszönhetően erősíti a bőr hidrolipid rétegét és szabályozza a faggyútermelést.


Organikus édesmandula olaj

Egy nagyon kellemes, lágy olaj, könnyű a felvitele, puhává és bársonyossá varázsolja a bőrt. Bőrlágyító tulajdonságának köszönhetően táplálja és hidratálja a bőrt, valamint megvédi a kiszáradástól. Selymessé teszi és élénkíti, ezáltal aktiválja a bőr öngyógyító funkcióját; nyugtató hatásával csökkenti az irritációt és a viszketést.


Organikus bambuszlevél hydrosol

A bambuszlevelek lepárlásából kinyert összetevő tisztítja és mattítja a kombinált vagy pattanásos bőrt, ugyanakkor hatásosan hidratálja és nyugtatja a száraz, érzékeny arcbőrt is. Magas kovasav tartalmának köszönhetően puha és bársonyos lesz az arcbőr.


Ezüstpor

A ZAO termékekben a tiszta ezüst természetes tartósítószerként funkcionál. Antibakteriális tulajdonságainak köszönhetően fertőtlenítő hatásával is óvja a bőrt.

22% OF THE TOTAL INGREDIENTS ARE FROM ORGANIC FARMING.

100% OF THE TOTAL INGREDIENTS ARE OF NATURAL ORIGIN.

INGREDIENTS LIGHT COMPLEXION BASE (F2): AQUA (WATER), GLYCERIN**, SIMMONDSIA CHINENSIS (JOJOBA) SEED OIL*, PRUNUS AMYGDALUS DULCIS (SWEET ALMOND) OIL*, SUCROSE PALMITATE, GLYCERYL STEARATE, CETEARYL ALCOHOL, CI 77891 (TITANIUM DIOXIDE), SILICA, MICA, POTASSIUM PALMITOYL HYDROLYZED WHEAT PROTEIN, TOCOPHEROL, PHYLLOSTACHYS NIGRA EXTRACT*, OLIVE GLYCERIDES, BUTYROSPERMUM PARKII (SHEA) BUTTER*, SALVIA SCLAREA (CLARY) FLOWER/LEAF/STEM WATER*, GLYCERYL CAPRYLATE, MICROCRYSTALLINE CELLULOSE, CELLULOSE GUM, PARFUM (FRAGRANCE), CI 77820 (SILVER). * ingredients from Organic Farming. ** made using organic ingredients.

Natural and Organic Cosmetic certified by ECOCERT Greenlife according to ECOCERT Standard available at: http://cosmetiques.ecocert.com.
Hogyan töltsd újra a terméket?
You might also like